Highlights of the third day of Vitoria Stone Fair
Published in 10/06/2018 - 10:50
Hand-carved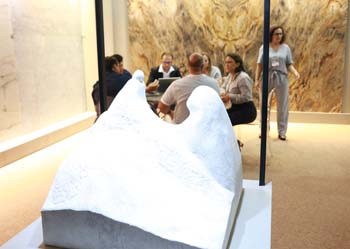 The visitors of Pedra do Frade Export booth saw the beautiful sculpture that honors both the company and the tourist attraction Pedra do Frade e a Freira.
Sculpted by Giuseppe Veddeve, in Super White marble, the work portrays the identity of the company. Saiman Fiorio, sales director, explains that the art was handmade with a pneumatic, vibrating air chisel!
Coloring the stones
A new technology presented at the fair has conquered architects and designers. It is a procedure presented by Brasigran that allows to apply a coloration in the stones, that absorb the color through the outcropping of crystals.
"The treatment and care of the material is the same as with the other natural stones. The difference is that, when applying the pigmentation, the piece can not be exposed to UV rays", explains Renata Malenza.
Sindirochas: history registered in book
The 45 years of Sindirochas were celebrated this Saturday (09), at the booth of the institution in Pavilion 3. During the celebration, there was the official launch of the book "Stones of Espírito Santo: 60 years making history".
The work is a project by Sindirochas in commemoration of the 60th anniversary of the extraction of the first marble block in Espírito Santo. The book has texts by Cláudia Sabadini, Fernando Gomes and Marcelo Grillo, bringing together testimonies, photographs and facts that record the history of pioneering, challenges and victories of the sector of ornamental stones in the state of Espírito Santo.
Archathon Challenge: judges decision
The judges at the Archathon Vitoria Stone Fair have revealed the finalists of the challenge that will lead a group of young architects to Marmomac, in Italy, to visit one of the largest natural stone fairs in the world:
The finalists are:
To trío
arthritis
Fg.dt Architecture
LPM
MARMO
Scapini Studio
CLOVER
REX
This Saturday (09), the projects delivered - which were created based on the concept of a Coffee Work space for CASACOR ES 2018 - were evaluated. It is not long before we find out who will win!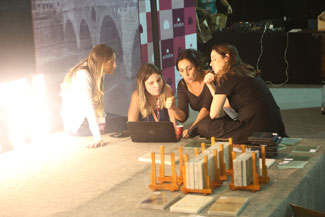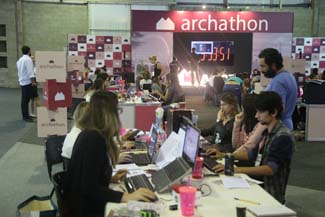 ---
More news: